Taste of Home Community member, Carol Gage, shares with us her new Sunday Dinner traditions.
Sunday dinners at our house are about as unpredictable as the weather in New England-wait 5 minutes and it can change.
When I was growing up, my Nana, who lived with us and my Mom, made Sunday dinner. I have so many memories of the wonderful Italian food that graced the dinner table. I carried on that tradition when our daughter Robin was young- we sat down to a big meal every Sunday afternoon or evening.
Now that we're "empty nesters", anything goes on any given weekend.
On the Sundays that I do cook a sit-down dinner-like this past weekend-I like to cook a variety of foods to have on hand for a few days. My kitchen usually looks like an explosion hit when I'm through-pots, pans, measuring cups and spoons and utensils are everywhere, but in the end, preparing a bunch of different items saves me time during the week because I use the leftovers to morph into other meals.
I love taking advantage of meat sales at the grocery store-like during the holiday season when they have sales on turkey…..I grab 2 or 3 extra and tuck them away in the freezer. What a treat to have Thanksgiving dinner in June-and that turkey gives me plenty of meat for an economical week of meals too.
The weather was beautiful over this long holiday weekend here-perfect weather for grilling. Along with being the "food photographer", my husband, Bob is also the grill-master. We grill all year round-yes even in the middle of a snowstorm-but really enjoy it in the warm summer months.
Usually when we grill on the weekend, we utilize every inch of that grill and cook a lot of meat or chicken. We do steak on one side of the grill, and chicken on the other side, or load the whole grill with chicken-that helps me plan all kinds of different dishes for the remainder of the week. During the summer, that's a real plus. I can always find a home for meat or chicken in big main dish salads on a warm night.
The grocery store had a great sale on boneless pork chops on Saturday, so I stocked up and froze most of them, keeping one package of 5 chops out to cook on Sunday. We don't often grill pork chops, so I went in search of something we'd like.
Being an avid cookbook and food magazine collector, I have plenty of resources to choose from. I love trying new recipes on any given day-always looking at the recipe as a "two-fer"……what two meals can I get out of this one recipe?
I found two recipes that I thought would work well together. For a vegetable side, fresh broccoli, lightly steamed. fit nicely. I knew that would work in my idea for a couple more dishes.
The corn on the cob? It looked great at the store……we were in mood for it……and I can cut the leftover corn off the cob to have as a side dish mid week with some chicken.
Here's what graced our Sunday dinner table….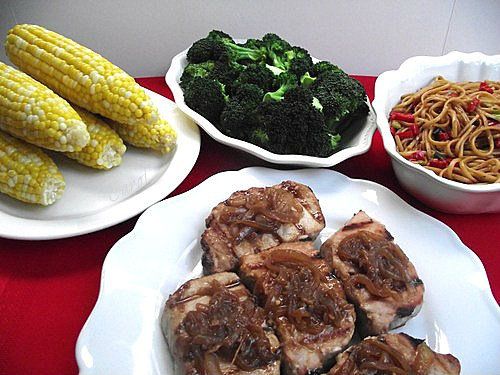 When I found this pork chop recipe, I knew the Asian-based ingredients would be perfect in a stir-fry the next night. Grilling the extra pork chops has saved me time for the next meal.
This is my first time making a peanut butter added sauce for meat. It's so good! You wouldn't know there's peanut butter in it tasting it. It does give the sauce a nice creaminess and depth. I used a hefty 1/4 teaspoon of red pepper flakes-it added a little heat but nothing too overpowering.
The pork chops came off the grill juicy and tender, and the caramelized onions really added a nice touch.
This recipe has made it into the grilling favorites folder.
THAI PORK CHOPS WITH CARAMELIZED ONIONS
(Source: adapted from Southern Living Annual Recipes 2005 cookbook)
3 Tbsp. light brown sugar
3 Tbsp. creamy peanut butter
2 Tbsp. lite soy sauce
2 tsp. grated fresh ginger
1 garlic clove, minced
1/4 tsp. (up to 1/2 tsp.) dried crushed red pepper
1 large sweet onion, sliced
1/3 c. orange juice
4 (1″ thick) boneless center-cut pork chops
Cook brown sugar, peanut butter, soy sauce, ginger, garlic and red pepper in a small saucepan over medium-high heat, stirring constantly, for 1-2 minutes or until thoroughly heated.
Add sliced onion; cook, stirring occasionally, until onion is caramelized, about 15 minutes.
Add orange juice; stir until well mixed. Remove and reserve the onion with a slotted spoon, reserving the sauce. Cover onions to keep warm.
Preheat grill; oil grill grates.
Brush the reserved sauce evenly over both sides of the pork chops. Grill pork, covered with grill lid, over medium-high heat (350-400 degrees) for 4-5 minutes on each side or until done, brushing occasionally with remaining sauce.
Remove chops to a serving platter; top with caramelized onions. 4 servings.
———————
On the rare occasion that we order Chinese take out, one of my favorite dishes is Lo Mein. Must be the Italian in me-that pasta with all those vegetables really hits the spot.
I love trying recipes to make Lo Mein at home. It uses ingredients I always have on hand here-and the vegetables you add can vary depending on what's in the refrigerator.
This is a quick, easy and delicious lo mein that lends itself to whatever vegetables AND meat you might have on hand.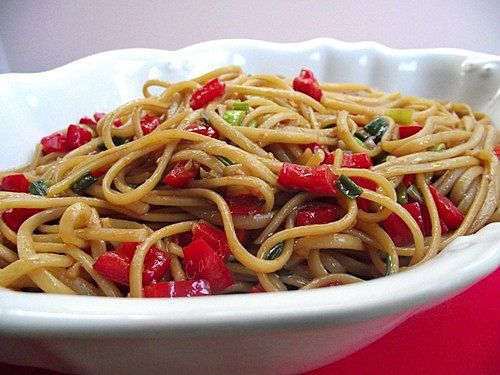 BETTER THAN EVER LO MEIN
(Source: adapted from Mr. Food)
1/2 lb. linguine
2 Tbsp. vegetable or peanut oil, divided
2 Tbsp. sesame oil
3 Tbsp. soy sauce
1 tsp. granulated sugar
1 tsp. cornstarch
1/2 tsp. ground ginger
3 garlic cloves, minced
4 scallions, chopped
1/2 c. diced red bell pepper
Cook pasta according to package directions, drain, rinse with cold water, drain again and set aside.
In a small bowl, combine 1 Tbsp. vegetable oil, sesame oil, soy sauce, sugar, cornstarch, ginger, and garlic.
In a large skillet or wok, heat remaining 1 Tbsp. vegetable oil over medium-high heat. Add scallions and red pepper; stir-fry for 1-2 minutes. Add pasta to skillet; stir-fry for 1 minute.
Pour sauce mixture into skillet; toss well and cook until sauce heats through, coats pasta and sauce has thickened slightly. Serve immediately. 4 servings.
——————–
What's on tap for the new meal? I'm going to slice the pork chops into thin strips, add them to the leftover Lo Mein along with some some of the leftover steamed broccoli, some diced onion that I'll start first and cook to crisp-tender and a few shredded carrots.
Dinner will be on the table in 15 minutes or so…….can't get much better than that.
The "Traditional" Sunday dinners were always wonderful. Using Sunday to make a big dinner with components that extend into meals for the upcoming week making dinner prep quick and easy, is the "new normal" for us.